Case
Study - Eat Happy Premium Food Retail Chain
Eat Happy Group, a premium food retail chain located in Europe, are present in 1000 stores of REWE and other grocery stores in Germany. With the help of Computer Vision technology, they want to collect data across the stores and derive meaningful information to optimize their operations. Optimization of what to produce for which store, how the products are laid in the chillers, and getting a better understanding of their customers. In collaboration with SQUIRREL, Eat Happy Group has a technical setup at stores to get some valuable insights to optimize their entire production and operations.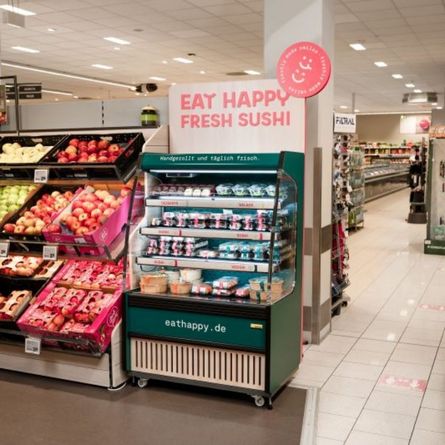 Challenges before SQUIRREL
SQUIRREL was set up at various stores of Eat Happy. SQUIRREL is a consolidation of an adaptable edge kit as a hardware layer of the system, which consists of the camera, and temperature sensors connected to the computer and the software layer, a flexible connectivity fabric that is an intelligent nervous system. Ultimately, there is a core SaaS layer that is the heart and brain of the SQUIRREL that is empowered with key algorithms that can analyze the data and provide meaningful insights. Overall, SQUIRREL has the power to sense a wide range of real-world scenarios, analyze and control the physical world digitally.
This entire setup is a plug-and-play model and can be integrated into any other software application with ease. The setup at a store takes just 30 mins and can start producing results immediately after the implementation. 
The camera and the sensors were set up in the chillers at Eat Happy store. The camera act as an eye of the system. The sensors were used to maintain the temperature inside the chiller.
CEO of Eat Happy, David talking about SQUIRREL
CTO of SQUIRREL, talking about how it works
Whenever the stock of a particular item came down below the set threshold, SQUIRREL alerted the concerned personnel.
Since food items come under the low-shelf-life category, replacing them becomes crucial as they become stale. SQUIRREL could analyze the quality of the product and inform the system to replace the old with fresh items.
Keeping track of customer behavior and requirements based on location, time, season, etc.. was crucial. SQUIRREL collected all of this data to provide insights into what store sold what products at what time. How many products were sold on a daily, weekly, or monthly basis?
SQUIRREL could alert the staff whenever the temperature inside the chiller went below the set limit. This helped in maintaining the quality of the product.
SQUIRREL is implemented at multiple Eat Happy stores to make their shops and chillers smarter. SQUIRREL having the capability to sense, analyze and control many aspects of the digital world, is providing Eat Happy Group the ability to realize greater business goals